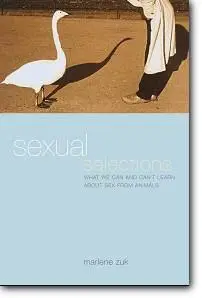 Marlene Zuk, «Sexual Selections: What We Can and Can't Learn about Sex from Animals»
University of California Press | ISBN 0520240758 | 2003 Year | PDF | 2 Mb | 250 Pages
Like most books, this one was begun well before I knew I would write it, and many people helped it get written. For advice, support, and in some cases merely for responding with interest rather than incredulity to the idea that I was writing a book, I thank Elizabeth Carpelan, David Edwards, Patty Gowaty, Sarah Blaffer Hrdy, Kristine Johnson, Marcy Lawton, Nancy Moran, Virginia Morell, and especially John Rotenberry. Sarah Hrdy read the entire manuscript and made many useful comments and suggestions. Kirk Visscher consulted on the weighty question of whether commercial figs and fig products contain wasps. I thank Barry Farrell for encouraging me to write in Santa Barbara many years ago. Adrian Wenner introduced me to the fallacy of the scala naturae and to many other problems in the philosophy of science. Doris Kretschmer of the University of California Press was a thoughtful and insightful reader and editor. Several chapters were written while I was a Visiting Professor in the Department of Animal Ecology at Uppsala University in Sweden, and I am very grateful to the department members for their kindness during my stay and for the support of the Swedish Natural Science Research Council. Other scientists in Finland, Norway, and Sweden graciously discussed their work with me during my visit and gave me access to unpublished material.