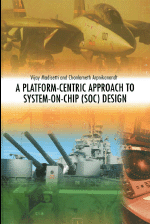 Vijay K. Madisetti & Chonlameth Arpikanondt,
«A Platform-Centric Approach to System-on-Chip (SOC) Design»
Springer Science | PDF | 2005 | ISBN (eBook): 0387238964 | 218 Pages | ~ 9.0 MB
The book proposes a new methodology for realizing platform-centric
design of complex systems, and presents a detailed plan for its
implementation. The proposed plan allows component vendors, system
integrators and product developers to collaborate effectively and efficiently
to create complex products within budget and schedule constraints. This
book focuses more on the use of platforms in the design of products, and not
on the design of platforms themselves.
Download:
SOC
You are welcome to download From OxyShare:
http://www.oxyshare.com/get/63...82c7ccb7.15377998/SOC.rar.html