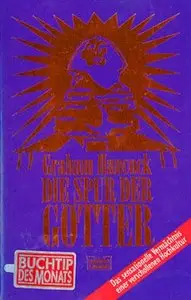 Graham Hancock - Die Spur der Götter
Genre: Menschen, Wissen | Time: 09:30:00 | Publisher: Bastei Lubbe | ISBN: 3404641493 | 6. Oktober 2003
Language: Deutsch | Audiobook in MP3 / 64 kbps | 580.27 MB
Beschreibung:
Ein absolutes Muss! Lange vor unserer Zeitrechnung gab es bereits eine andere, technisch fortschrittliche Kultur. Zu diesem Schluß kommt Graham Hancock nach dem eingehenden Studium von Karten aus dem 16. Jahrhundert, die zum Teil vermutlich auf noch älteren Exemplaren basieren und auf denen der Küstenverlauf der seit Jahrtausenden mit einer dicken Eisschicht bedeckten Antarktis genau eingezeichnet ist.Wie kamen die damaligen Kartographen zu ihren Kenntnissen über eine Landmasse, die sich erst heutzutage mit den modernsten Geräten erforschen läßt? Ist es möglich, daß durch eine Verschiebung der Erdkruste Landmassen unter Wasser gesetzt wurden und damit eine hochentwickelte Zivilisation vernichtet wurde? Graham Hancock machte sich auf den Weg, diesen Fragen und ungeklärten Rätseln nachzuspüren, um überall auf der Welt Beweise zu finden, die seine Theorie stützen.
Download Graham Hancock - Die Spur der Götter:
filesonic.com
|
wupload.com
|
uploaded.to
Pass: avaxhome.ws
Mehr Audiobucher von mir findet Ihr in
My Blog
If you'll find that my links are dead please let me know through the Private Messages.
Please DO NOT MIRROR