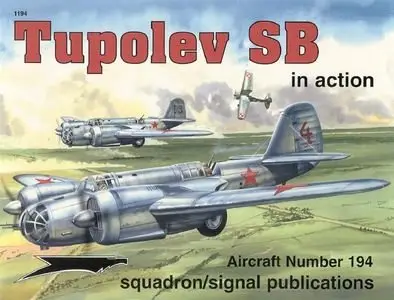 Hans-Heiri Stapfer - Tupolev SB In Action
Squadron/Signal Publications | 2004 | ISBN: 0897474813 | English | 52 pages | PDF | 12.5 MB
Aircraft Number 194
The Tupolev SB was one of the most modern bombers in the world when it was introduced in 1936. The design would go on to see combat in Spain, China, and Finland - but by the time Germany invaded the Soviet Union in 1941 the aircraft had grown quite long in the tooth, and in Soviet service suffered heavy losses at the hands of the more modern Luftwaffe. Hans-Heiri Stapfer's "Tupolev SB in Action" does a good job of describing this important aircraft. Like all Squadron/Signal "In Action" series, the book has a wealth of photos, two three-view line drawings, a page of color prints, and technical specifications. The format of the book is chronological, starting with the SB prototypes before moving on to the M-100, M-100A, and M-103 powered production versions. The technical details and operational histories are good, benefiting no doubt from being published after the fall of the Soviet Union when greater access to archival material was possible. It also has a section on the Czech-built Avia B-71, information on which is quite rare.