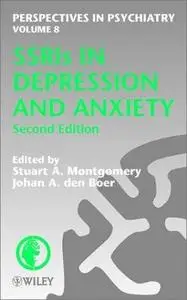 SSRIs in Depression and Anxiety, 2nd edition
edited by Stuart A. Montgomery, Johan A. den Boer
John Wiley & Sons | ISBN 0470841362 | 2001 | PDF | 220 pages | 1.1 MB
SSRIs have been used as an effective treatment for depression for many years. Recently they have been used more widely in the treatment of anxiety disorders. This title outlines the current state of thinking on the origins of anxiety, its biological basis, how it relates to depression and various anxiety disorders as well as the biological and clinical effects of SSRIs on such conditions. International perspective Up-to-date source of information Contributions from leading experts SSRIs in Depression and Anxiety, Second Edition, will provide a timely update on the use of SSRIs as their application in this area becomes more widespread. The book will be valuable reading for psychiatrists, psychologists, pharmacologists, primary care physicians and all health care professionals who manage patients with these common disorders.