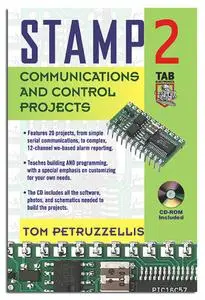 STAMP 2 Communications and Control Projects
ISBN :0071411976|English|PDF|2.1 MB|361 Pages |McGraw-Hill/TAB Electronics
About the book :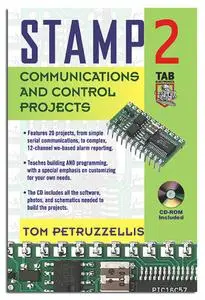 STAMP 2 Communications and Control Projects
ISBN :0071411976 | PDF | 2,1 Mb | 361 Pages | McGraw-Hill/TAB Electronics
EVERYTHING YOU NEED TO INCORPORATE THE STAMP II CONTROLLER INTO YOUR NEXT COMMUNICATIONS PROJECT When it comes to adding power to complex electronic circuits, the BASIC STAMP II microprocessor is the standard against which all others are judged. And now, thanks to STAMP II Communications and Control Projects, learning how to integrate this versatile technology with your next project is easier than ever. With the help of detailed schematics, informative photos, and an insightful CD-ROM, STAMP II Communications and Control Projects leads you step by step through 24 communications-specific projects. As a result, you'll gain a firm understanding of STAMP II and its programming methodologies -; as well as the ability to customize it for your own needs and operating system. Basic enough for hobbyists -; yet detailed enough for designers and technicians -; STAMP II Communications and Control Projects will help you add untold efficiencies and more fun to your projects. Just some of the exciting projects you'll find inside: * Touch Tone Decoder for R/C Control * Cell-Alert * Caller ID * Morse Code Keyer * Ham Radio Mailbox * Ham Repeater Controller * Wireless Multichannel Alarm System * Lightning Monitoring System * Aerial R/C Photography * Xlink System * And much, much more!
Download from here : RS - 1 rar file = 2.1 MB
http://rapidshare.de/files/26491451/Electronics.STAMP_2_Communications_and_Control_Projects_MAZ.rar.html
Password :
www.AvaxHome.ru