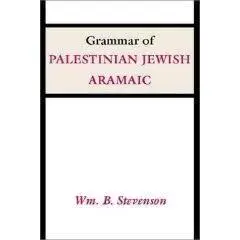 William B. Stevenson, Grammar of Palestinian Jewish Aramaic (2nd ed. 1962)
ISBN-10: 1579102646 | 1st ed. 1924 | PDF | 4 MB
A contribution to the Classical Languages Team Project
http://uztranslations.net.ru/classics.html
Jonathan Bailey at amazon.com:
"Being trained as I am at the business of learning dead Semitic languages, I am able to get around with the book and I have rarely been disappointed in my search for an answer to any particular question. The book is careful to show distinctions between Targumic Aramaic and Midrashic Aramaic, both subdialects that come under the umbrella of Palestinian Aramaic. It also frequently references Biblical Aramaic.
Finally, I should note that this book is strictly a reference grammar. It is organized by grammatical structure, and pays no mind to organization in lessons that introduce a student to the language through gradual introduction of concepts based on frequency or ease of learning. There are of course no excercises or glossaries.
Not for the novice, but an Aramaist or Hebraist who wants to dig into the Targums could profit much from this work."
This archive also includes two reviews on this grammar by J. C. Greenfield (Journal of the American Oriental Society, 1963) and Marvin Pope (Journal of Biblical Literature, 1962).
Download:
http://www.ftp2share.com/file/17056/StevensonPalJewAram.html
Check the Classical Languages Team Project page for more downloads in Latin, Greek, Hebrew, Aramaic, Syriac, Ethiopic as well as Sanskrit, at http://www.uztranslations.net.ru/classics.html.

And please - if you like these posts, do contribute to the Project.