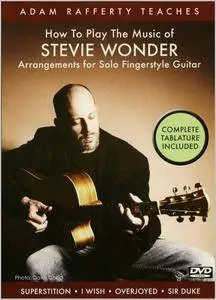 How to Play the Music of Stevie Wonder For Solo Fingerstyle Guitar Vol 1
DVD5 | VIDEO_TS, NTSC, 4500 kbps, 720x480 | English, PCM, 1500 kbps, 2 Ch | 1 hr 55 mins | + PDF | 4.46 GB
Instructor: Adam Rafferty
Your friends and familiy will be amazed when YOU start to play…
Superstition
Overjoyed
I Wish
Sir Duke
Here's What You'll Get:
110+ minute DVD with in depth video lessons and performances.
Step by Step, note for note explanations of EXACTLY how to play the arrangements
Split Screen Views of Right and Left Hand for easy understanding
A 30 page booklet with complete tablature and notation
Easy to undserstand explantions of "pop", "click" and "slap" techniques
Explanations of walking basslines, harp like chords and groove techniques
Easily learn at YOUR own pace in YOUR own home when YOU want to!
NO MUSIC READING REQUIRED!