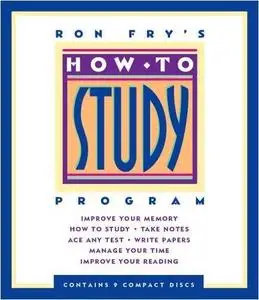 How to Study Program by Ron Fry Read by Beverly Butler and David Cooper
Audiobook | Abridged | 10 ½ hours on 9 CDs | 5 X 25 MB .rar files +cover
An essential audio study guide for students of all ages, available for the first time on CD. A great graduation gift!
For years, Ron Fry has been giving students the keys to scholastic success. His best-selling How to Study Program is now available on CD for the first time. The series includes the following segments:
• How to Study: Offers advice on creating a work environment, excelling in class, getting motivated, using the library, and more.
• "Ace" Any Test: Walks you through successful test preparation, from reading for retention to researching the teacher's test-taking history.
• Improve Your Reading: Teaches reading comprehension skills so students remember more of what they learn.
• Improve Your Memory: Specific strategies for retaining facts and performing better on tests.
• Manage Your Time: A step-by-step plan to put more time into the day, week, or semester.
• Take Notes: Effective ways to identify and capture noteworthy material from teachers, textbooks, and other resources.
• Write Papers: How to create a great research paper, from choosing a topic to doing research, developing an outline, writing from the first to final drafts, proofreading, and more.
Praise for the Audio Edition:
"High school students and many an adult will find Fry's How to Study [audio] program specific and important: seven study guides…cover the basics of studying, taking tests, improving reading and memory, and time management. This is a complete course presenting Fry's practical tips for student success, and will serve as both an introduction and as a refresher course."
—Midwest Book Review
RON FRY is the best-selling author of 101 Great Answers to the Toughest Interview Questions and more than 40 other books. He is an acknowledged authority and frequent speaker and seminar leader on a wide variety of job-search topics at schools and associations nationwide.