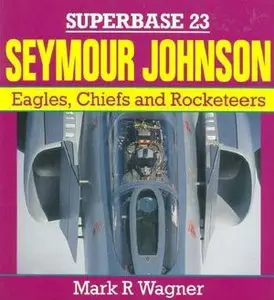 Mark R. Wagner - Seymour Johnson: Eagles, Chiefs, and Rocketeers
Osprey Publishing | 1991 | ISBN: 1855321734 | English | 130 pages | PDF | 16.83 MB
Superbase 23
Home of the 4th Tactical Fighter Wing (TFW), Seymour Johnson is a key base in the USAF's East Coast defensive network. Since the F-15E Strike Eagle was briefly in "Superbase 12: Edwards", this new strike fighter has gone on to see operational service during Desert Storm flying with the 4th TFW. Currently transitioning onto the F-15E from the classic F-4E Phantom II, the 4th TFW are shown during this historical phase. As a result of this, the author has managed to capture the Air Force of the 1970s and early 1980s in the same book as the USAF of the 1990s and beyond. As an added bonus, Strategic Air Command also operate a large wing of KC-10 Extender refuellers from Seymour Johnson in support of 4th TFW assets. This base also has the distinction of being the largest facility in North Carolina.
The Osprey Superbase series takes the enthusiast behind the scenes on the world's major air bases. This series features spectacular, exclusive colour photography from aviation's top photographers. Each title begins with a 3-4 page narrative introduction to the history and missions performed by the base, followed by a series of photo essays on various aspects of the overall topic. All the photographs are in colour.