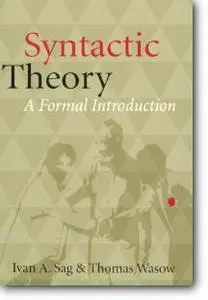 Ivan A. Sag, Thomas Wasow, "Syntactic Theory: A Formal Introduction"
Center for the Study of Language and Information | ISBN 1575861607 | 1999 Year | PDF | 2 Mb | 440 Pages
Of the various books I have used for teaching syntax, this is the one that I prefer most. It is introductory in the sense that it requires little in terms of background or previous knowledge, but it is also advanced in the sense that it gradually builds up to a level of sophistication that is rarely achieved in introductory textbooks. The exercises are well integrated and challenging enough to trigger lively discussion and a high level of active participation from the students.
As an introductory textbook should be, this book is elegant and parsimonious, in particular, with SPR functioning dually as 'specifier' and 'subject', and GAP replacing SLASH with no LOCAL-NONLOCAL distinction. I've come to appreciate Syntactic Theory much more than previous works on HPSG. The book is well meant to be realistic and performance-plausible while espousing the competence model of phrase structure grammar.