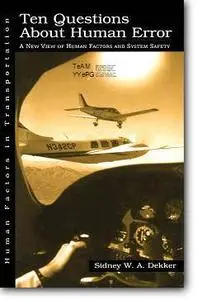 Sidney W.A. Dekker, «Ten Questions About Human Error: A New View of Human Factors and System Safety»
LEA | ISBN 0805847448 | 2004 Year | PDF | 13,45 Mb | 240 Pages
Ten Questions About Human Error asks the type of questions frequently posed in incident and accident investigations, people's own practice, managerial and organizational settings, policymaking, classrooms, Crew Resource Management Training, and error research. It is one installment in a larger transformation that has begun to identify both deep-rooted constraints and new leverage points of views of human factors and system safety. The ten questions about human error are not just questions about human error as a phenomenon, but also about human factors and system safety as disciplines, and where they stand today. In asking these questions and sketching the answers to them, this book attempts to show where current thinking is limited–where vocabulary, models, ideas, and notions are constraining progress. This volume looks critically at the answers human factors would typically provide and compares/contrasts them with current research insights. Each chapter provides directions for new ideas and models that could perhaps better cope with the complexity of the problems facing human error today. As such, this book can be used as a supplement for a variety of human factors courses.