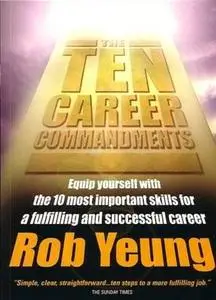 «The Ten Career Commandments»
ENGLISH | Author: R. Yeung | Publisher: How To Books Ltd. | ISBN: 185703788X | Publication Date: 2002 | Pages: 105 | FileType: PDF | File size: 1.06 MB (UNCOMPRESSED)
Title: The Ten Career Commandments
Language: English
Author: R. Yeung
Publisher: How To Books Ltd.
ISBN: 185703788X
Publication Date: 2002
Pages: 105
FileType: PDF
File size: 1.06 MB (UNCOMPRESSED)

Rob Yeung is a business psychologist who has worked with many international organisations. His ten career commandments give key advice and exercises to make you think and change your working life.
Download through
Rapidshare
:
URL:
http://rapidshare.de/files/31300172/D1001415131315.pdf
Size: 1.06 MB (UNCOMPRESSED)
NOTE: No password.See Network Coding Theory as well.
You are welcome to download From OxyShare:
http://www.oxyshare.com/get/104834837744f57a3ca77230.85688997/D1001415131315.pdf.html