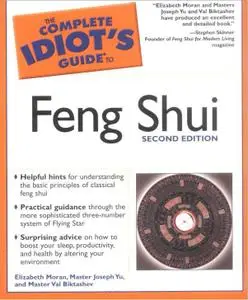 Elizabeth Moran, Master Val Biktashev, Val Biktashev, Joseph Yu
«The Complete Idiot's Guide to Feng Shui (2nd Edition)»
Alpha | ISBN: 978-0028643397 , 0028643399 | 2nd edition (March 8, 2002) | pdf | 408 pages | 12.7 MB | English
Book Description
"An American masterpiece that tops the lot."
—Feng Shui For Modern Living
Considered the feng shui bible by classical practitioners and teachers, The Complete Idiot's Guide to Feng Shui has been updated to include more case studies and feng shui readings to make the practical application of feng shui even more accessible; new chapters feature before and after photos of feng shui makeovers and explain Ming Gua—the Guardian Star that influences a person's character—and much more.
• One of the few Western books that focuses on "classical" feng shui, which is growing in popularity now that the topic has become more mainstream
• Joseph Yu is one of only five world-renowned classical feng shui masters
ReviewsFeng Shui For Modern Living Magazine, September 1999
This guide is certainly not aimed at idiots. Recent years have seen a surge of 'how to' books on feng shui, but this American Masterpiece tops the lot - it peels away the layers of superstition and myth permeating the modern practice. This is a book to dip in and out of rather than sit down for a chronological read. Be prepared to be distracted by the many topics covered. On the other hand, for anyone who wants to read well presented material presented in a logical order, this book is hard to beat. Expertise Rating. –This text refers to an out of print or unavailable edition of this title.