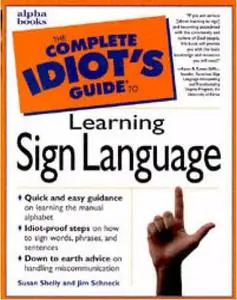 Susan Shelly
«The Complete Idiot's Guide to Learning Sign Language »
Alpha | ISBN 0028623886 | (August 14, 1998) | 1st Edition | pdf | 304 pages | 4.58 MB
Book Description
You're no idiot, of course. You studied a foreign language, you can give good hand signals to a driver parallel parking, and you know when your boss is in a bad mood based on body language. But when it comes to using sign language, you feel like you're all thumbs. Don't throw up your hands yet! When you finish reading The Complete Idiot's Guide to Learning Sign Language, you'll have enough knowledge of the basic sign handshapes, grammar, and syntax to get started signing by yourself. In this Complete Idiot's Guide, you get:
To the Reader
So, you want to learn sign language—American Sign Language in particular. Well, you've come to the right place. The Complete Idiot's Guide to Sign Language will give you a basic knowledge of ASL that will both delight and fascinate you.
Just a word of warning: Many people find that once they start learning
this beautiful, graceful language, it's extremely hard to stop! You may end up wanting to sign all the time to friends and family, even to strangers! Don't let that deter you from picking up this book, though. Your friends and family will be very impressed when you use sign language to invite them to dinner. They might even ask you for some lessons
If you work hard and practice what this book teaches you, you'll be signing by the time you finish. You won't be an expert, by any means, but you'll be able to understand and make yourself understood in ASL.
In addition to learning sign language, you'll learn about something most people are not even aware exists. The Complete Idiot's Guide' to Sign Language holds a wealth of information about Deaf culture, the intricate set of values, mores, shared experiences, and attitudes that, along with the language, form the bonds that unite and empower the Deaf community, You'll be intrigued by the stories, anecdotes, and memories of Deaf people contained in these pages. Some will make you laugh; others will make you want to cry-So, come along for a fascinating journey that will teach you not only a new language, but will give you a look into a whole new world. Open your mind and start limbering up your fingers—the adventure is about to begin-
We hope you enjoy the trip!