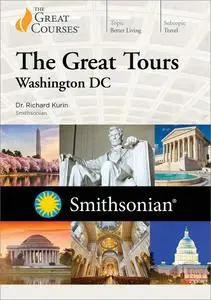 TTC Video - The Great Tours: Washington DC
Course No. 8609 | .MP4, AVC, 2500 kbps, 1280x720 | English, AAC, 128 kbps, 2 Ch | 24x30 mins | + PDF Guidebook | 18.73 GB
Lecturer: Professor Richard Kurin, Ph.D.
As a political epicenter, Washington DC is a major national and international crossroads, attracting visitors from all corners of the Earth and being featured in the global news on a daily basis. But beyond the glamour and glare of high-profile politics, it is a city on par with some of the greatest in the world, brimming over with remarkable history and culture, and offering a multitude of unforgettable sights and experiences.
Throughout this intriguing city, you'll find some of the world's most beautiful and extraordinary national monuments—of which the iconic Washington Monument and Lincoln Memorial are only the beginning. You'll also find some of the world's finest museums of history, science, and art, from the phenomenal Smithsonian museums to the National Gallery of Art, Dumbarton Oaks Research Library and Collection, and more. You will experience masterpieces of civic architecture such as the National Mall and the Library of Congress, as well as monumental government facilities, from the U.S. Capitol to the State and Treasury Departments. Along the way, you will also encounter beautifully landscaped parks and gardens; a wealth of extraordinary historic homes; a rich and varied performing arts, entertainment, and culinary scene; and innumerable lesser-known focal points to surprise and delight.

Now, in The Great Tours: Washington DC, The Great Courses partners once again with the Smithsonian, the nation's premier repository of U.S. history and world culture, to bring you a deep and multi-faceted look at this amazing city.

With this course, you will get to know Washington DC and the spectrum of treasures it contains. Your in-depth experience will allow you to better appreciate:

A one-of-a-kind urban environment containing stunning public buildings, works, and spaces;
The American people's historical efforts to embody the U.S. Constitution and our founder's ideals;
A thoroughly remarkable window into modern history;
The history, the workings, and the dimensions of our government in action; and
A vibrant, cosmopolitan city that resonates with people from all nations and cultures, as well as an intimately livable city that 700,000 people call home, and 5 million in the Metro region regularly enjoy.

Discover Washington DC through the Expertise of the Smithsonian

This exciting 24-part travelogue—lavishly illustrated with thousands of historic images, animated maps, and substantial location footage—rests on the vast historical and administrative resources of the Smithsonian, and on the brilliant and engaging commentary of Dr. Richard Kurin, Smithsonian Distinguished Scholar and Ambassador-at-Large. Dr. Kurin brings both his 40 years of experience at the Smithsonian—overseeing most of the institution's national museums, libraries, and archives—and his own decades of exploration of his beloved home city to these content-rich videos.

In this unique, insider's tour of Washington, Dr. Kurin leads you on a dazzling journey through the many layers of history and human endeavor that created DC's extraordinary urban environment. Along the way, he takes you beyond the most visible and well-known sites to uncover hidden gems that visitors usually don't know about, offering fascinating perspectives on DC's history, from the 18th-century origins of the District of Columbia to the 21st-century city we know today. Throughout the course, lectures are arranged by site and activity, making it easy to go directly to specific subject matter or special interests.

Dr. Kurin rounds out your view of DC with a series of special interviews with expert guests interspersed throughout the lectures, drawing on his remarkable resources and contacts developed over a four-decade-long career. Among others, you'll get special insight into the meaning of military memorials from General Colin Powell himself, look into the Kennedy Center and arts in Washington with renowned cellist Yo Yo Ma, and explore the relationship of food and American history with celebrated chef José Andrés.

Legendary Sights and Hidden Treasures

In a comprehensive view of the city and its history, you'll delve into the incredible range of Washington's riches, including:

Landmarks and Departments of the U.S. Government. Make a detailed visit to the White House, taking account of its construction, rebuilding, and dramatic history. Take in the architectural magnificence of the U.S. Capitol building, and visit its legislative chambers. Dig into the history, lore, and imposing facilities of the Supreme Court; the spectacular Library of Congress; the departments of State, Treasury, and Justice; and the unmissable National Archives;
Majestic Monuments and Memorials. Among DC's most revered sights, visit and study the background of the great presidential memorials to Washington, Lincoln, Jefferson, and Franklin Delano Roosevelt. Explore the National Mall's Vietnam Veterans Memorial Wall and its particular significance, and contemplate the meanings of the Korean War Veterans Memorial, the World War II Memorial, and the extraordinary memorials at Arlington National Cemetery;
A Spectrum of World-Class Museums. Within the city's astounding wealth of museums, learn about the collections of the Smithsonian's National Museum of American History, National Air and Space Museum, National Museum of Natural History, and National Museum of African American History and Culture, among others. Explore the artistic splendors of the National Portrait Gallery; The Phillips Collection; and the Hillwood Estate, Museum & Gardens; and sample the wonders of the Smithsonian National Zoological Park;
Lesser-Known Historic Gems. Discover a range of extraordinary sites overlooked even by many locals. Among these, visit the historic mansion of General Robert E. Lee, uncover the history of Abraham Lincoln's "summer White House," study the life and work of abolitionist Frederick Douglass at his preserved home, learn about presidential connections with the historic Willard Hotel, and visit locations associated with humanitarian and Red Cross founder Clara Barton.
Storied Neighborhoods and Homes. Venture beyond the famous sights to explore DC's colorful and elegant neighborhoods: Savor the architecture and cultural richness of Embassy Row; the revitalized DC waterfront; and the neighborhoods of Dupont Circle, historic Georgetown, and nearby Alexandria, Virginia. Get to know George Washington's Mount Vernon, and other grand mansions, plantations, and humble homes that memorably reveal the city's history.

Experience the Numerous Facets of This Living City

In the course's second half, Dr. Kurin takes the tour far beyond politics and history, to give you a vivid view of contemporary Washington and its wide range of appealing activities, events, and lifestyle choices. Within these, you'll explore DC's:

Arts and Entertainment Scene:Review the huge diversity of Washington's performing arts offerings, spanning the multi-venue Kennedy Center; a plethora of distinguished live theater and dance; and seemingly countless music venues offering live performances of popular, classical, and world music.

Dining and Food Culture: Learn about DC's traditional food culture, historic restaurants, contemporary fine-dining options, food festivals, and wide array of world cuisines.

Sports:Investigate the lore of DC's sports teams, past and present, and find out where to see (and play) sports from baseball, football, and basketball to imports such as rugby, Gaelic football, and cricket.

Outdoor Activities:Discover DC's many nature sites, and note Dr. Kurin's suggestions for where to enjoy beautiful scenery, abundant wildlife, and outdoor pursuits from hiking and boating to nature and heritage sites.

In these visually sumptuous lectures, Dr. Kurin and the Smithsonian profile the diversity and the many layers of Washington DC—as a beloved national symbol; a vital seat of government; and a living, thriving metropolis. Whether you're planning your own visit to Washington or would simply like to explore the nation's capital from where you are, The Great Tours: Washington DC offers you a detailed, insider's view of one of the world's most exciting and culturally rich cities.