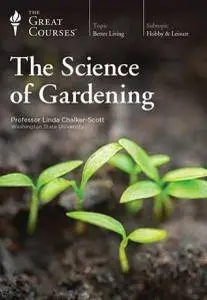 TTC Video - The Science of Gardening
Course No. 9443 | .M4V, AVC, 700 kbps, 854x480 | English, AAC, 160 kbps, 2 Ch | 24x30 mins | + PDF Guidebook | 3.93 GB
Lecturer: Linda Chalker-Scott, Ph.D.
Where do you turn for gardening information? To the salespeople at your local home-improvement store? To the "expert" who has never lived in your part of the country? To the Internet with its latest 100%-effective home remedy pest-control mixture? If those are your sources—and they are for so many home gardeners—chances are you haven't been entirely satisfied with your results. That's because so many gardening "how-tos" are simply wrong for your particular garden, while other well-established "how-tos" are wrong for the long-term health of any garden.
The Science of Gardening shows how to create a beautiful and sustainable home garden guided by the newest information from applied plant physiology, biology, soils science, climatology, hydrology, chemistry, and ecology. From choosing and purchasing your trees and shrubs, to giving them the best start in your garden, to healthy maintenance and pest control, award-winning horticulturist Linda Chalker-Scott of Washington State University shows why science-based decisions are always best for your home garden, and also the most ecologically sound for the greater environment. You'll enjoy her contagious enthusiasm and wonderful sense of humor as you learn to create your own vibrant, sustainable landscape.

In these 24 lectures—enhanced with beautiful photographs, videos, and illustrations both in the studio and in the field—you'll learn how to:

Assess your site's topography, microclimate, and soil chemistry before choosing a tree or shrub species, and understand why that information is crucial to long-term success.
Inspect nursery plants from the crown to the ground for evidence of quality and health.
Estimate a specimen's root health based on above-ground clues.
Water your landscape effectively and appropriately, with conservation in mind.
Choose an appropriate mulch type by understanding the science-based pros and cons of each.
Prune your trees and shrubs safely and effectively based on their morphology and physiology.
Identify plant stressors and predict future problems.
Manage the weeds and pests in your garden without immediately turning to herbicides and pesticides.
Choose trustworthy sources of plant-science information, keeping in mind the critical difference between correlation and causation.

Integrated Pest Management

Professor Chalker-Scott covers gardening from soil and seed to pruning and produce, focusing on the issues and obstacles every gardener faces. And every garden has pests, whether weeds, animals, or both. And let's be honest: Some days it's pretty tempting to just buy that bottle of pesticide to solve what feels like a never-ending problem. But building a beautiful landscape doesn't happen overnight, and neither does pest control. Your safest and most effective long-term approach is to develop an integrated pest management (IPM) plan that addresses your plant and soil needs, the biology and needs of the pest, your tolerance level for garden intrusion, and concern for the surrounding environment. Professor Chalker-Scott devotes two full lectures to pesticides and pest treatment as very few home gardeners are familiar with diagnosing the issues and the options available to them.

The Science of Gardening provides a four-pronged approach for understanding and managing pests of all kinds—from English ivy to deer and everything in between. Your first step is to accurately identify the pest and its physiology, food requirements, and reproduction. With an IPM, the gardener then considers four categories of action in the following order: cultural, mechanical, biological, and chemical. Cultural options include making the plant or the environment less hospitable to the pest. Mechanical options can include weeding, fencing, water blasting, or traps. Biological control requires a deep knowledge of the species involved and careful planning to avoid inadvertent consequences that are worse than the initial problem. And if do you need to turn to chemicals as a last resort, this course gives you a step-by-step guide to choosing and using the appropriate chemicals in the safest manner.

Busting the Myths of Home Gardening

Professor Chalker-Scott describes today's gardening world as a "Wild West" of products and practices that exist in an almost regulation-free environment. Consequently, we need to look for supporting scientific evidence before making decisions with far-ranging effects.

Understanding the physiological and chemical mechanisms by which your tree or shrub interacts with its environment is crucial for determining how to support the health of your garden. You'll learn how and why your plants rely on bacteria and fungus in the soil—and how the application of unnecessary gardening products can disrupt those crucial pathways. You'll also learn why some species of plants grow exceptionally well with certain fungi, forming a symbiotic relationship where the chemical products of one become the nutrients of the other.

As you learn more about science-based gardening, you'll be empowered to bust some long-term gardening myths. For example, you might have heard you should never shop at a nursery where some plants show evidence of insect damage. The truth: If there's no insect damage on their plants, it most likely means they've been using far too many pesticides. And what about native plants? They will always do better in your garden than non-natives, right? Probably not, because unless you live in the middle of a completely undeveloped area, your garden today shares very few soil, water, and microclimate characteristics with the environment in which that native species developed.

In The Science of Gardening, you'll learn the truth behind many longstanding myths surrounding gardening. At best, they are wasteful. And at worst, they'll harm your plants and the environment. They include well-meaning but inaccurate advice such as:

Always put gravel in the bottom of a pot because it helps with drainage.
Never disturb the root ball of a tree or shrub you're planting.
Use fertilizers when you plant bulbs, perennials, trees, or shrubs.
Use organic fertilizers because they're safer than synthetics.
Your soil should contain a great deal of organic matter, otherwise it won't be healthy.
Use a vitamin B-1 supplement because it enhances root growth.
Choose only mulches containing organic materials If you want the mulch to be effective.
Replace your turf with xeriscape; it will always save you water.
Apply a wound dressing after branch removal to help the tree heal.

When scientists examine home gardens and landscapes, one fact stands out: The leading cause of landscape failure is not disease and it's not pests—it's our own gardening practices. The Science of Gardening shows you how to make the best possible decisions on plant selection, planting, and maintenance. From now on, you won't need a green thumb to get your garden to grow; you'll have science on your side!