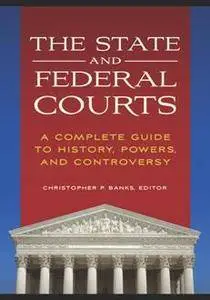 The State and Federal Courts :
A Complete Guide to History, Powers, and Controversy
by Christopher P. Banks
English | 2017 | ISBN: 1440841454 | 522 Pages | PDF | 5.7 MB
This single-volume work provides a comprehensive and contemporary treatment of the historical development of state and federal courts that clearly documents how they have evolved into significant political institutions. It addresses vital and highly relevant subjects such as the constitutional origins of courts, the nature of judicial selection and service, and the organization of courts and their administration. The book explains civil and criminal legal proceedings, the political impact of judicial rulings, and the restraints placed upon the exercise of judicial powers. Readers will come away with an understanding of the key principles of constitutional interpretation and judicial review as well as judicial independence, what factors affect access to courts, the underlying politics of state judicial campaigns, and the confirmation of presidential appointments to the federal bench. The book covers historical and contemporary court perspectives on major issues, such as same-sex marriage, the Affordable Care Act, campaign financing, gun rights, free speech and religious freedom, racial discrimination, affirmative action, criminal procedure and punishments, property rights, and voting rights.