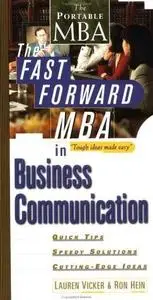 Lauren Vicker, Ron Hein, «The Fast Forward MBA in Business Communication»
Wiley | ISBN 047132731X | June 1999 | PDF | 175 Pages | 1,40 Mb
The Fast Forward MBA in Business Communication
brings you the information youneed when you need it most- now! This practical, easy-to-use guide gives you instant access to the cutting-edge ideas and hard-won wisdom of two of today's leading experts on business communication. In short, lively segments using real-world examples, it delivers the information you need to navigate complex communication issues. You'll find brief descriptions of key concepts, tips on real-world applications, compact case studies, tips on finding your communication strategy, and warnings on how to avoid pitfalls. Here are all the tools you need to improve your business writing and presentation skills-and become a more successful manager in the process.
You'll discover how to:
Analyze your audience so you get the right message to the right people
Improve your logic to power up written documents and oral presentations
Write stronger e-mails to improve decision-making
Use new tools such as presentation software and document management systems And much more From the creators of the bestselling Portable MBA series comes
The Fast Forward MBA . . .
A quick way to brush up on new ideas
An easy-to-use format that fits in any briefcase
Real-world information that you can put to use now!
Download Here
Password:
spiderman
You are welcome to download From OxyShare:
http://www.oxyshare.com/get/10...6.68387587/FFMBA_BCom.rar.html