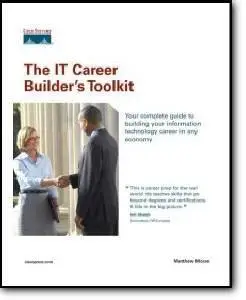 Matthew Moran, «The IT Career Builder's Toolkit»
Cisco Press | ISBN 1587131560 | 2004 Year | CHM | 1 Mb | 312 Pages
Your complete guide to building your information technology career in any economy

The IT Career Builder's Toolkit features market-focused skills and proven methods you can use to jump-start and advance your career. While other books cover just the mechanics of preparing your resume, writing a cover letter, and interviewing, this book provides all that plus additional insight from IT career development expert, Matt Moran, to help you plan and create a rewarding IT career over the long term.

The toolkit approach allows you to use this book to suit your unique needs:

Are you new to the IT field? Benefit by reading the book cover to cover.

Just need to fine-tune your IT career? Choose a topic and dive in.

Understand and prepare for the various and changing factors that affect your career in both positive and negative ways. Learn how to

Present the value of your technical skills in the job market

Position yourself as the primary commodity of your career

Remove the guesswork out of job searches

Highlight on-the-job skills and gain meaningful professional exposure

The companion CD-ROM includes career management tools such as resume and cover letter templates, forms to track important contacts, and self-assessment tools. Start or further your consulting career with sample proposals, opportunity tracking forms, and a time-tracking and billing database. Financial tools, including budget and cash-flow summary worksheets, help you gain financial well-being. Use the Value-Added Technologist presentation to gain a clear understanding of the career-building process and how to use the toolkit to build a dynamic career.

Most of all, have fun! Every year, people advance along the path to career stardom. Let Matt help you to be one of them through his career philosophy "Do not accept mediocrity as a career objectivedemand more of yourself."