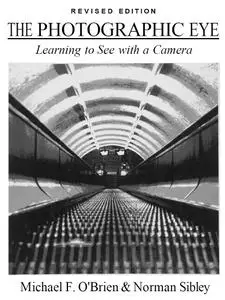 Michael F.O'Brien & Norman Sibley, "The Photographic Eye – Learning to See with a Camera"
Davis Publications, Inc., | ISBN 0-87192-283-5 | PDF | 357 Pages | 14,2 Mb
Любопытная книжка, что-то вроде учебника. Разбираются технические и творческие вопросы фотографии. Много иллюстраций (чёрно-белых) работ мастеров и учебных, студенческих.
Из предисловия:
…there's no magic in the camera. It's just a box with a hole in it. You supply the magic. When you, the photographer, use a camera creatively, it changes from a simple, mechanical machine into an artist's tool.
Download:
http://rapidshare.de/files/24439533/Photo_eye.rar
OR
http://www.oxyshare.com/get/17...76.42559061/Photo_eye.rar.html