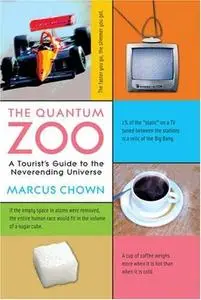 Marcus Chown, «The Quantum Zoo: A Tourist's Guide to the Neverending Universe»
National Academy Press | ISBN 0309096227 | 30 April 2006 | PDF | 213 Pages | 2,30 Mb
The two towering achievements of modern physics are quantum theory and Einstein's general theory of relativity. Together, they explain virtually everything about the world we live in. But, almost a century after their advent, most people haven't the slightest clue what either is about. Did you know that there's so much empty space inside matter that the entire human race could be squeezed into the volume of a sugar cube? Or that you grow old more quickly on the top floor of a building than on the ground floor? And did you realize that 1% of the static on a TV tuned between stations is the relic of the Big Bang? These and many other remarkable facts about the world are direct consequences of quantum physics and relativity.
Quantum theory has literally made the modern world possible. Not only has it given us lasers, computers and nuclear reactors but it has provided an explanation of why the sun shines and why the ground beneath our feet is solid. Despite this, however, quantum theory and relativity remain a patchwork of fragmented ideas, vaguely understood at best and often utterly mysterious. They have even gained a reputation of being beyond the understanding of the average person. Author Marcus Chown emphatically disagrees. As Einstein himself said, "Most of the fundamental ideas of science are essentially simple and may, as a rule, be expressed in a language comprehensible to everyone."
If you think that the marvels of modern physics have passed you by, it is not too late. In Chown's capable hands, quantum physics and relativity are not only painless but downright fun.
So sit back, relax, and get comfortable as an adept and experienced science communicator brings you quickly up to speed on some of the greatest ideas in the history of human thought.
Download Here
Password:
spiderman