Reuploaded. Link deleted.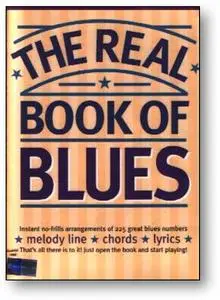 The Real Book of Blues


Mixed songbook | Publisher: Wise Publications | language: english | ID: AM952446 | pdf | 303 pages | rar: 27 MB


Instant no-frills arrangements of over 225 great blues numbers. Each song consists of melody line, chord symbols and lyrics (where appropriate). That's all there is to it! Just open the book and start playing.

194 Jazz Standards: All Of Me, Bakiff, Baubles, Bangles And Beads, Be-bop, Blue Haze, Cantiga Nova Swing, Chicago, Clap Yo' Hands, Flight Of The Foo Birds, Four, Groovin' High, Guys And Dolls, I'm Getting Sentimental Over You, I'm Old Fasioned, In Walked Bud, It Don't Mean A Thing (If It Ain't Got That Swing), It's A Raggy Waltz, J.D.'s Boogie Woogie, Line For Lyons, Lullaby Of Birdland, My Blue Heaven, Oh, Lady, Be Good, Robbin's Nest, Roundhouse, Save It Pretty Mama, So Nice, That's A Plenty, Who's Sorry Now?, Yesterdays, Zion, Me Wan Go Home, etc.

Enjoy the sharing!