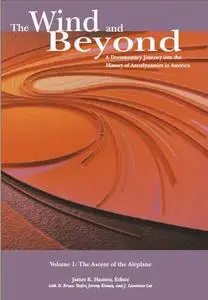 The Wind and Beyond: Volume 1 - The Ascent of The Airplane
NASA SP-2003-4409 | 2003 | ASIN: B000N58ZJA | English | 689 pages | PDF | 5.5 MB RAR | RS
How ideas about aerodynamics first developed and how the science and technology evolved to forge the airplane into the revolutionary machine that it became is the epic story told in this projected six-volume series. This is the first volume.
(From the foreword:)
Dr. James R. Hansen and his collaborators do more than just document the last century of flight. They go back and expertly trace the historical origins of what made the first heavier-than-air, controlled, powered airplane flight possible on 17 December 1903. Some names covered in this volume, such as Isaac Newton and Leonardo da Vinci, are familiar to even the most casual reader. Other heralded, but less well-known, early pioneers of flight such as George Cayley, Otto Lilienthal, Theodore von Kármán, and Theodore Theodorsen will come alive to readers through their original letters, memos, and other primary documents as they conjoin with the authors' insightful and elegantly written essays. This first volume, plus the succeeding five now in preparation, covers the impact of aerodynamic development on the evolution of the airplane in America. As the six-volume series will ultimately demonstrate, just as the airplane is a defining technology of the twentieth century, aerodynamics has been the defining element of the airplane. Volumes two through six will proceed in roughly chronological order, covering such developments as the biplane, the advent of commercial airliners, flying boats, rotary aircraft, supersonic flight, and hypersonic flight.
Only the first two volumes of this series have been published, so keep a lookout for the remainder as they appear. The second in the series is Reinventing the Airplane which has already been posted by
Pastilan
here:
http://www.avaxhome.ws/ebooks/others/the_wind_beyond.html
To add to the confusion, another book with the same title (The Wind and Beyond) was published back in 1967. (
http://www.amazon.com/Wind-Beyond-Theodore-von-Karman/dp/0316907537
)
This present 6-volume series is actually a tribute to him, as explained in the series introduction.
Although you
can
download the individual chapters of this book from NASA, I've RAR'd them into one file for convenience.
RS Download link
Individual PDF section files:
http://history.nasa.gov/SP-4409_1.pdf
http://history.nasa.gov/SP-4409_2.pdf
http://history.nasa.gov/SP-4409_3.pdf
http://history.nasa.gov/SP-4409_4.pdf
Mirrors welcome.