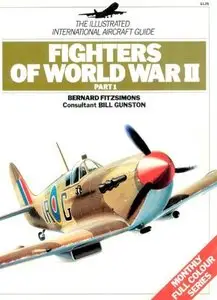 Bernard Fitzsimons - Fighters of World War II Part 1
MacDonald Phoebus | 1981 | ISBN: N/A | English | 68 pages | PDF | 53.15 MB
The Illustrated International Aircraft Guide 14
Fighters of World War II Part 1 covers fighters up to the invasion of the USSR. Among the types included are the MiG-3, and LaGG-3. The P-39 Airacobra saw action with the British, Americans and the Russians who liked the heavy armament in a ground-attack role. Machines like the Havoc, Beaufighter and Blenheim were deployed as fighters and with their twin engines were capable of carrying a very heavy cannon and machine-gun armament. Fitted with airborne interseption radar some were used as night-fighters.