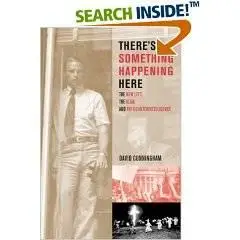 David Cunningham, There's Something Happening Here: The New Left, the Klan, and FBI Counterintelligence
ISBN 0520246659 | PDF in RAR | 2005 year | 382 pages | 2,57 MB
Cunningham analyzes the counterintelligence program of the FBI that was discovered in the early 1970s and formally stopped as an illegal operation in violation of the target's civil rights. Illegal surveillance was conducted with a broad range of groups from the New Left to civil rights groups to the Ku Klux Klan and related hate groups. Cunningham asserts that while the formal COINTELPRO was outlawed, many of its practices have continued because they are rooted in the strong anti-communist era when the FBI's activities went far beyond mere surveillance. Cunningham reflects on both the similar and distinctly different treatment of the New Left, which FBI director J. Edgar Hoover considered to be unpatriotic, and the Klan, which was viewed as patriotic but prone to violence. Cunningham draws connections between structural deficiencies of the agency from the 1970s until today, and their impact on the agency's inability to detect the activities of the 9/11 terrorists. This is an absorbing book for readers interested in the balance between our government's questionable surveillance practices and concerns about national security.