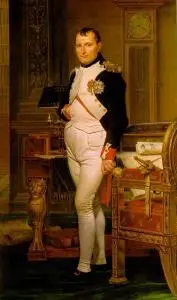 MPEG 2.0 layer 3 | 32kbit, 11893 frames | 22050Hz Mono | 530mb
Thomas Childers
University of Pennsylvania
Ph.D., Harvard University
Thomas Childers is Professor of History at the University of Pennsylvania, where he has been teaching for over 25 years. He received his Bachelor's and Master's degrees from the University of Tennessee and earned his Ph.D. in History from Harvard University.
In addition to his position at Penn, Professor Childers has held visiting professorships at Trinity Hall College, Cambridge, Smith College, and Swarthmore College. He is a popular lecturer abroad as well, in London, Oxford, Berlin, and Munich.
Professor Childers has won several teaching awards, including the Ira T. Abrahms Award for Distinguished Teaching and Challenging Teaching in the Arts and Sciences, the Richard S. Dunn Award for Distinguished Teaching in History, and the Senior Class Award for Excellence in Undergraduate Teaching.
Professor Childers is the author and editor of several books on modern German history and the Second World War. He is currently completing a trilogy on the Second World War. The first volume, Wings of Morning: The Story of the Last American Bomber Shot Down over Germany in World War II, was praised by Jonathan Yardley in The Washington Post as "a powerful and unselfconsciously beautiful book."
Описание.
http://www.teach12.com/ttcx/coursedesclong2.aspx?cid=820&id=820&d=Europe+and+Western+Civilization+in+the+Modern+Age&pc=Search
Link.
http://rapidshare.de/files/37485820/Thomas_Childers_Europe_and_Western_Civilization_in_the_Modern_Age.part1.rar
http://rapidshare.de/files/37486180/Thomas_Childers_Europe_and_Western_Civilization_in_the_Modern_Age.part2.rar
http://rapidshare.de/files/37486577/Thomas_Childers_Europe_and_Western_Civilization_in_the_Modern_Age.part3.rar
http://rapidshare.de/files/37487086/Thomas_Childers_Europe_and_Western_Civilization_in_the_Modern_Age.part4.rar
http://rapidshare.de/files/37487673/Thomas_Childers_Europe_and_Western_Civilization_in_the_Modern_Age.part5.rar
http://rapidshare.de/files/37487705/Thomas_Childers_Europe_and_Western_Civilization_in_the_Modern_Age.part6.rar