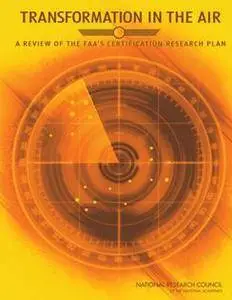 Transformation in the Air :
A Review of the FAA's Certification Research Plan
by National Research Council (U.S.)
English | 2015 | ISBN: 030937460X | 61 Pages | PDF | 1.24 MB
The Federal Aviation Administration (FAA) is currently undertaking a broad program known as Next Generation Air Transportation System (NextGen) to develop, introduce, and certify new technologies into the National Airspace System. NextGen is a fundamentally transformative change that is being implemented incrementally over a period of many years. Currently, the FAA is putting into place the foundation that provides support for the future building blocks of a fully operational NextGen. NextGen is a challenging undertaking that includes ground systems, avionics installed in a wide range of aircraft, and procedures to take advantage of the new technology.
Transformation in the Air assesses the FAA's plan for research on methods and procedures to improve both confidence in and the timeliness of certification of new technologies for their introduction into the National Airspace System. This report makes recommendations to include both ground and air elements and document the plan's relationship to the other activities and procedures required for certification and implementation into the National Airspace System.