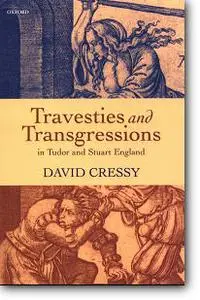 David Cressy, «Travesties and Transgressions in Tudor and Stuart England : Tales of Discord and Dissension»
Oxford University Press | ISBN 0198207816 | 2000 Year | PDF | 2,65 Mb | 368 Pages
This book examines how the orderly, Protestant, and hierarchical society of post-Reformation England coped with the cultural challenges posed by various beliefs and events outside the social norm. David Cressy employs a series of linked stories and close readings of local texts and narratives
to investigate such unorthodox happenings as bestiality and monstrous births, seduction and abortion, excommunication and irregular burial, and nakedness and cross-dressing.

Each story–and the reaction it generated–exposes the strains and stresses of this unique phase of British history. As Cressy points out, the reigns of Elizabeth, James, and Charles I saw endless religious disputes, tussles for power within the aristocracy, and countless arguments about the
behavior and beliefs of common people. Questions raised by "unnatural" episodes were widely debated at both the local and national levels, and drew the attention of magistrates, bishops, crown, and court. The resolution of such questions was not taken lightly in a world where God and the devil were
still fighting for people's souls.
Password
:
www.AvaxHome.ru
Download from Rapidshare
Бонус | Bonus
My other uploaded eBooks (1900+) - links and descriptions
Другие книги, закаченные мной (более 1900) - ссылки и библиографические данные
New!
version 6 (May 03 2006) [1,12 Mb] | Format: txt
Download eBooks list from Mytempdir
Download eBooks list from Rapidshare
If the book from the list is necessary for you, and the link to her does not work, send me the message. Also please about the dead links in my posts send me the message.
Если Вам необходима книга из списка, а ссылка на нее не работает, то отправьте мне сообщение. Также пожалуйста отправляйте мне сообщения о нерабочих ссылках в моих постах.