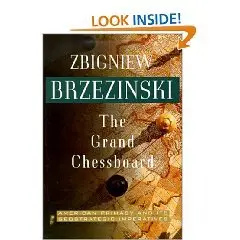 The Grand Chessboard: American Primacy and Its Geostrategic Imperatives
Basic Books | September 17, 1998 | ISBN: 0465027261 | 240 pages | PDF | 2 mb
The former national security advisor is still a believer in geopolitics after all these years. Like most foreign-policy aficionados weaned on the Cold War, Brzezinski (Out of Control, 1993) has been forced by the disintegration of the Soviet Union to broaden his perspective–but not very far. He sees the US as the only global superpower, but inability to maintain its hegemony indefinitely means that ``geostrategic skill'' is essential. To what end is not specified beyond the vague shaping of ``a truly cooperative global community'' that is in ``the fundamental interests of humankind,'' but in this genre, goals are commonly assumed rather than examined. In any case, Brzezinski casts Eurasia as the playing field upon which the world's fate is determined and analyzes the possibilities in Europe, the former Soviet Union, the Balkans (interpreted broadly), and the Far East.