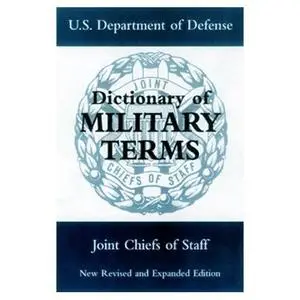 VA - US Army: Dictionary of Military Terms
Hardcover: 493 pages / pdf: 661 pages | Publisher: Stackpole Books; Revised edition (2001)
Language: English | ISBN: 1853673862 | 2,4 Mb
Containing over 10,000 terms and abbreviations used by the U.S. military, this official dictionary has been compiled by the U.S. Joint Chiefs of Staff. It also contains the latest approved NATO terms but does not extend to the Kosovo conflict. Most entries are fairly short, composed of about five or six sentences. This dictionary is meant largely for military personnel or those with a good knowledge of military matters; See also references are rare and used mostly with abbreviations. Furthermore, unlike other recently published military dictionaries, this work contains no bibliography or appendix of definitions that might aid the reader. Still, this is an authoritative source of U.S. military terms and will likely appeal to military specialists or researchers in military history.AMark E. Ellis, Albany State Univ., GA
Copyright 1999 Reed Business Information, Inc.
Book Description (Fully revised and updated)
More than 10,000 terms and abbreviations defined and explained Indispensable reference work on the language of modern war. The diversification of military terminology and jargon in recent years has made a clear, authoritative guide to the language of todays armed forces essential. This newly revised reference book meets these requirements and, by defining more than 10,000 terms and abbreviations, serves as the essential key to the evolving concepts and language of the modern military profession.
Compiled, revised and updated by the U.S. Joint Chiefs of Staff, the Dictionary of Military Terms presents the standard language required by the Office of the Secretary of Defense, Military Departments, Joint Staff, combatant commands and defense agencies. It provides definitions and explanations for more than 6,000 current military and associated terms, lists over 3,000 abbreviations and acronyms and includes the English version of all currently approved NATO terms.
This is an essential guide for professional military personnel, and for those who need to understand the language of modern defense, as well as being a fascinating insight into strategic and tactical concepts and how modern wars are fought.
http://www.ftp2share.com/file/6965