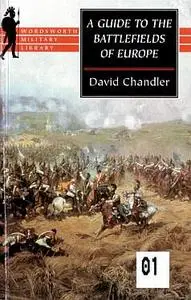 BATTLEFIELDS OF EUROPE

From the Siege of Troy to the Second World War

Edited by

David Chandler

Wordsworth Editions, 1998

Part 01

(pp.001-039): ToC; lists; introductory stuff; Battlefields of Austria

Format: PDF Size: 1.2 Megabytes

http://rapidshare.de/files/20824945/DC_BoE_01.rar

Password

:

voyakizabiyaki01
I plan to scan and OCR this book in parts, approximately 40-60 pages each weekend. Therefore, the next parts will be uploaded once in a week. Hope I will not be forced to stop the project… If you'll see that the book is already scanned by someone else please inform me, and I'll begin to scan another book.
Общая идея такова. С одной стороны, я не прочь посканить и повыкладывать книги из своей коллекции. С другой стороны, за эту РАБОТУ (примерно часа полтора на 40-60 страниц, считая скан, OCR, вычитку-форматирование и заливку) хочется Получить взамен ХОТЯ БЫ премиум-аккаунт на РапидШаре, то есть набирать 10 тыщ очков в месяц. Предыдущие подобные проекты (японско-русский словарь, книги о кошках и т.д.) с треском провалились, так как братья по разуму из СНГ быстренько перезаливали файлы в другие места, в том числе и на Рапидшару. Чтобы поддерживать рапидовский аккаунт, пришлось заливать вещи достаточно интересные, но уже имеющиеся на осликах.
Данная книга - каждая её часть - должна давать баллы более скромные, конечно, чем эротика или книжки типа "как за полчаса стать хитрее всех биржевиков", но опыт предыдущих заливок показал: для книг, подобных Battlefields, полтыщи очков за неделю - это очень скромный минимум. Проверим в следующую пятницу. Кто хочет сделать так, чтобы проект прекратился - флаг в руки, ребята, перезаливайте кусочки куда угодно. Я очень понимаю тех, кто не любит рапиду, я и сам её, мягко говоря, недолюбливаю, но размер каждой части не будет превышать двух-трёх килобайтов - это никого не должно обременить.
Разумеется, когда будет выложена последняя часть книги, мне немедленно станет безразлично, кто в какой формат переформатирует всю книгу и куда перезальёт.
Пользуясь случаем, приношу свою сердечную признательность тем, кто выкладывает файлы, взятые из осликов или с других сайтов, особенно АлексПалу. Мы вряд ли нашли бы перезалитые вами файлы где-то там на просторах Интернета. Иногда эти файлы оказывались чрезвычайно полезными и актуальными именно в те дни, когда вы их выкладывали! В общем, респект вам.
Enjoy!