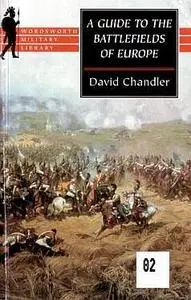 BATTLEFIELDS OF EUROPE

From the Siege of Troy to the Second World War

Edited by

David Chandler

Wordsworth Editions, 1998

Part 02

(pp.038-070): Battlefields of Austria (part 2), Belgium, Bulgaria, Cyprus

Format: PDF Size: 1.8 Megabytes

http://rapidshare.de/files/21658684/BoE-028-070.rar

Password

:

voyakizabiyaki02
I apologize for uploading relatively small parts but I scan and proofread every page and the book is in a poor comdition, therefore it takes a lot of time to bring to you each part.
I plan to continue scanning, OCRing, proofreading and uploading further pieces of the book each weekend, approximately 40-60 pages per slice. Hope I will not be forced to stop the project in the middle - but it will happen if I'll see that the number of downloads will drop (because someone has reuploaded the file, that might be the only reason).
Enjoy!