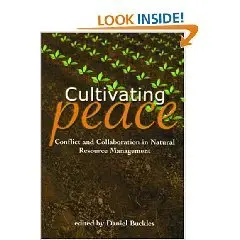 Cultivating Peace : Conflict and Collaboration in Natural Resource Management
World Bank Publications | March 3, 2005 | ISBN: 0821346237 | 300 pages | PDF | 1.72 mb
Why does conflict occur over the use of natural resources? How are external factors built into local conflicts? What governing mechanisms are conducive to equitable and sustainable natural resource management by communities? When do local strategies for conflict management need to be complemented or replaced by external or new mechanisms? How can research help identify opportunities for turning conflict into collaboration? Why is collaboration in natural resource management so difficult? This book grapples with those questions. Case studies analyze specific natural resource conflicts in 10 countries and the interventions of people close to the conflicts (in some cases, the authors themselves). Four concept papers draw the case stories together around particular themes: culture, society, peace, and policy. The concept papers illustrate their main points with examples from the case studies, grounding concepts in concrete experience and raising broader questions for further study.