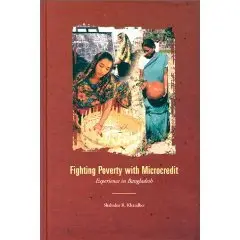 Fighting Poverty with Microcredit : Experience in Bangladesh (A World Bank Publication)
A World Bank Publication | December 17, 1998 | ISBN: 0195211219 | 240 pages | PDF | 1 mb
Providing the poor with access to financial services is one of many ways to help increase their incomes and productivity. In many countries, however, traditional financial institutions have failed to provide this service. Microcredit and cooperative programs have been developed to fill this gap. Their purpose is to help the poor become self-employed and thus escape poverty. Many of these programs provide credit using social mechanisms, such as group-based lending, to reach the poor and other clients, including women, who lack access to formal financial institutions. With increasing assistance from the World Bank and other donors, microfinance is emerging as an instrument for reducing poverty and improving the poor's access to financial services in low-income countries. This book examines the experiences of the Grameen Bank and two other major microcredit programs in Bangladesh in order to quantify the potential and limitations of microcredit programs as an instrument for reducing poverty and delivering financial sevices to the poor.