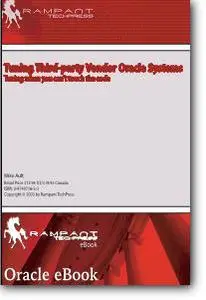 Mike Ault, «Tuning Third-party Vendor Oracle Systems»
Rampant TechPress | ISBN B0000D1BS3 | 2004 Year | PDF | 1,71 Mb | 95 Pages
This fantastic eBook discusses how to tune vendor applications where you cannot touch the source code.? These techniques apply to Oracle SAP tuning, Oracle Peoplesoft Tuning, and Oracle applications tuning.? Topics include optimizer plan stability, stored outlines, and SGA tuning techniques.
Password
:
www.AvaxHome.ru
Download from Rapidshare
Бонус | Bonus
My other uploaded eBooks (1900+) - links and descriptions
Другие книги, закаченные мной (более 1900) - ссылки и библиографические данные
New!
version 6 (May 03 2006) [1,12 Mb] | Format: txt
Download eBooks list from Mytempdir
Download eBooks list from Rapidshare
If the book from the list is necessary for you, and the link to her does not work, send me the message. Also please about the dead links in my posts send me the message.
Если Вам необходима книга из списка, а ссылка на нее не работает, то отправьте мне сообщение. Также пожалуйста отправляйте мне сообщения о нерабочих ссылках в моих постах.