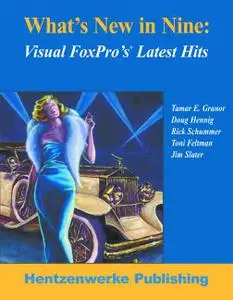 Visual FoxPro 9 introduces change in a number of areas. As you've probably heard, the biggest enhancements are to the Report Designer. The list of new features is incredible: multiple detail bands, built-in
output to HTML, XML, and image files, object protection, an improved user
interface, extendible Report Designer, extendible run-time features,
design-time captions and tooltips, GDI+ rendering … there are so many new features, it takes three whole chapters of the book just to cover them all!
But that's not all!
VFP has a tradition of open architecture that allows the FoxPro community to extend the product. In addition to allowing developers to extend the reporting system, VFP 9 also supports replacements for the Menu Designer, provides a technique for developers to replace system dialogs, and allows customization of the Property Sheet.
In addition, VFP 9 offers a number of improvements in form design, including dockable forms and the ability to anchor controls for resizing. The SQL sublanguage has been enhanced, and there are significant improvements for handling remote data. Add these areas to the usual collection of small improvements and VFP 9 is an upgrade well worth the price.
http://rapidshare.de/files/26418505/whats_new_9.rar.html