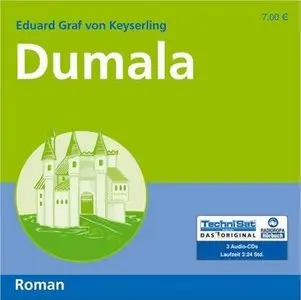 Eduard Graf von Keyserling - Dumala
Genre: Roman | Time: 03:24:35 | Publisher: Radioropa Horbuch | ISBN: 3866675909 | 20. Januar 2007
Language: Deutsch | Audiobook in MP3 / 128 kbps | 193.29 MB
Beschreibung:
Unersättlicher Lebenshunger veranlasst die verführerische Baronin Karola Werland ihren an den Rollstuhl gefesselten Mann und das eheliche Schloss Dumala zu verlassen. Mit ihrem Liebhaber, einem jungen Dandy, bricht sie auf nach Florenz, in eine vermeintlich freie Zukunft. Doch ihre Vitalität enthüllt sich als Schein. Auch Karola trägt Resignation und Überdruss, das tödliche Gift ihrer Zeit, in sich. In traumhaft schönen Bildern von streng ritualisierter Künstlichkeit diagnostiziert Keyserling die Welt des untergehenden Adels als eine Sphäre vollkommener Lebensferne. Eduard von Keyserling (1855-1918), aus einer alten baltischen Adelsfamilie stammend, hat Romane und Erzählungen geschrieben, die zum Schönsten gehören, was die deutsche Literatur hervorgebracht hat. Man hat ihn einen baltischen Fontane genannt. Licht, Glanz und Farbenreichtum dieser Geschichte sind um so erstaunlicher, als der Autor bei Abfassung des Romans bereits erblindet war.
Download Eduard Graf von Keyserling - Dumala:
filesonic.com
|
wupload.com
|
uploaded.to
Pass: avaxhome.ws
Mehr Audiobucher von mir findet Ihr in
My Blog
If you'll find that my links are dead please let me know through the Private Messages.
Please DO NOT MIRROR