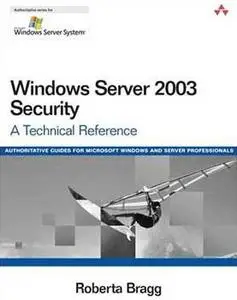 Windows Server 2003 Security: A Technical Reference
CHM file | 1176 pages | Download Size: 26.8 MB
Author: Roberta Bragg, CISSP, MCSE: Security, Security + (editor of the "Hardening" series and author of "Hardening Windows Systems")
Publisher: Addison-Wesley Professional (May 26, 2005)
Language: English
ISBN: 0321305019
This book is not designed with the Windows end user, advanced or not, in mind. It is meant for the server administrator, network administrator, security administrator, IT manager, technology specialist, or other individual who must design, implement, troubleshoot, or configure the security of Windows Server 2003 or the networks it is used on. Though it does provide the details that may help anyone studying for an exam, it is not a resource for those whose only interest is in passing an exam. There are no study questions and way too much information on topics that may not be on an exam but that are vital to the understanding and operation of server and network security. The book does provide important information and the details of securing Windows Sever 2003; it is not a step-by-step guide on how to harden the server. Instead, it is a technical resource, and it provides much of the rationale behind hardening steps.
"Once again, Roberta Bragg proves why she is a leading authority in the security field! It's clear that Roberta has had a great deal of experience in real-world security design and implementation. I'm grateful that this book provides clarity on what is often a baffling subject!"
James I. Conrad, MCSE 2003, Server+, Certified Ethical Hacker
James@accusource.net
"Full of relevant and insightful information. Certain to be a staple reference book for anyone dealing with Windows Server 2003 security. Roberta Bragg's Windows Server 2003 Security is a MUST read for anyone administering Windows Server 2003."
Philip Cox, Consultant, SystemExperts Corporation
phil.cox@systemexperts.com
"Few people in the security world understand and appreciate every aspect of network security like Roberta Bragg. She is as formidable a security mind as I have ever met, and this is augmented by her ability to communicate the concepts clearly, concisely, and with a rapier wit. I have enjoyed working with Roberta more than I have on any of the other 20 some odd books to which I have contributed. She is a giant in the field of network security."
Bob Reinsch
bob.reinsch@fosstraining.com
Link:
http://rapidshare.de/files/24466772/w2k3sec_techref.part1.rar
http://rapidshare.de/files/24474047/w2k3sec_techref.part2.rar
http://rapidshare.de/files/24511751/w2k3sec_techref.part3.rar