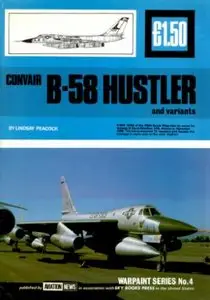 Lindsay Peacock - Convair B-58 Hustler and variants
Alan W. Hall | 1978 | ISBN: N/A | 21 pages | PDF | 15.68 MB
Warpaint Series No.4
The original Warpaint Series was derived from the long-running Warpaint feature in the fortnightly magazine Aviation News. The book series focused on post-war military aircraft, with an emphasis on the markings carried. Each book contains a concise written history of the subject covered, illustrated with b+w photographs and tone profiles. The centre pages are devoted to a 1:72 scale 5-view line drawings, with numerous scrap view of variants and details. A chapter on operators and markings is included. Appendices tabulate units, serial numbers, tail codes etc. Curiously, technical specifications are not included.