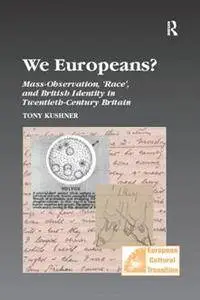 We Europeans? Mass-Observation, "Race" and British Identity
in the Twentieth Century
by Tony Kushner
English | 2016 by Routledge | ISBN: 0754602060 | 294 Pages | PDF | 14 MB
We Europeans is the first book-length study of the original mass observation project. It is also the first detailed historical study of the formation of ordinary people's 'racial' attitudes in Britain. Drawing upon historical, literary, cultural and anthropological approaches, this book examines the sources of cultural identity in Britain in the twentieth century, and how these were shaped through the influences of family, education, and everyday 'high' and 'low' culture. The examination focuses on the archives of the British social-anthropological organization Mass-Observation, and is the first detailed history of it to be published. Founded in the 1930s by poets, psychoanalysts, surrealists, and sociologists, among others, the purpose of the organization was to create an anthropology of the British people by the 'natives' themselves, through the use of diaries, directives and special surveys. The organization was active from 1937 to 1951, then revived in the 1980s, when a new group of Mass-Observers were recruited to keep diaries and respond to directives. Both the historical archive of Mass-Observation and the more recent material provide fascinating insight into the everyday lives and formation of identities of ordinary people in Britain. Kushner places the material from these archives in the context of other contemporary writings; through them he explores grassroots identities in Britain in relation to the outside world, especially Europe but also the former Empire and the USA. This study will be of interest to scholars of sociology, cultural studies, literary studies and history who are particularly interested in 'race', race relations, immigration and cultural difference.