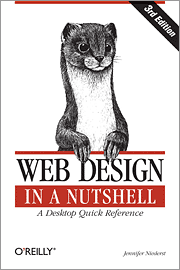 Web Design in a Nutshell: A Desktop Quick Reference by Jennifer Niederst Robbins - O'Reilly
Web Design in a Nutshell, 3rd Edition: A Desktop Quick Reference | ISBN: 0-596-00987-9 | 2006 Year | 3rd Edition | CHM | 5.25 MB | 826 Pages
Are you still designing web sites like it's 1999? If so, you're in for a surprise. Since the last edition of this book appeared five years ago, there has been a major climate change with regard to web standards. Designers are no longer using (X)HTML as a design tool, but as a means of defining the meaning and structure of content. Cascading Style Sheets are no longer just something interesting to tinker with, but rather a reliable method for handling all matters of presentation, from fonts and colors to the layout of the entire page. In fact, following the standards is now a mandate of professional web design.
Our popular reference, Web Design in a Nutshell, is one of the first books to capture this new web landscape with an edition that's been completely rewritten and expanded to reflect the state of the art. In addition to being an authoritative reference for (X)HTML and Cascading Style Sheets, this book also provides an overview of the unique requirements of designing for the Web and gets to the nitty-gritty of JavaScript and DOM Scripting, web graphics optimization, and multimedia production. It is an indispensable tool for web designers and developers of all levels.
Detailed info:
Web Design in a Nutshell: A Desktop Quick Reference at oreilly.com
The third edition covers these contemporary web design topics:
* Structural layer
* Presentation layer
* Behavior layer
* Web environment
* Web graphics optimization
* Multimedia: Web audio, video, Flash, and PDF
Organized so that readers can find answers quickly, Web Design in a Nutshell, Third Edition helps experienced designers come up to speed quickly on standards-based web design, and serves as a quick reference for those already familiar with the new standards and technology.
There are many books for web designers, but none that address such a wide variety of topics. Find out why nearly half a million buyers have made this the most popular web design book available.