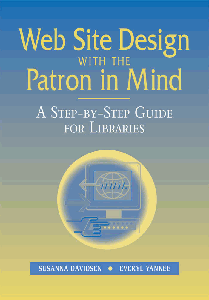 Web Site Design With the Patron in Mind: A Step-By-Step Guide for Libraries

American Library Association | ISBN: 0838908691 | Copyright 2004 | PDF | 115 Pages | 1.0 MB
Info
Product Details
Author:
Susanna Davidsen and Everyl Yankee
Pages:
115
Publisher:
American Library Association
Edition:
© 2004
Language:
English
ISBN:
0838908691
Format:
PDF
Size:
1.0 MB
Description:
A library's website is the face of the institution in the virtual world. If users don't quickly, easily, and intuitively find what they need, they will move on to other sites—possibly for good. Librarians understand the importance of usability for other library services, but while most libraries have a website, many sites don't adequately address the needs of key users. In this engaging, nontechnical guide, Davidsen and Yankee take readers step-by-step through the process of creating a user-friendly web presence for the library.
Step-by-step website design and redesign instructions, and bibliography all contribute to this highly usable and timely guide. You don't have to be a web design specialist, technical genius, or information architect to create a user-friendly site. For those assuming the role of librarian-web master in all library settings, this guide will help you to tailor the process to meet the needs of your particular audience and collect and develop the right data to do the job.
Featuring a web design process that focuses on users' behavior, needs, and habits, this practical resource helps librarians look at sites from their patrons' perspective. Using this systematic approach and the tools provided, librarians from different sizes and kinds of libraries will be able to develop patron friendly websites.
About the Author(s)Susanna Davidsen
is an Internet pioneer who developed the first virtual library on the Internet in 1992. For 8 years she served as the Director of the Michigan Electronic Library, the state's free online library service. Her virtual library design continues to be used as a model today throughout the world. She is now the managing director of the Internet Public Library.
Susanna was a member of the interface design team at ProQuest and serves as an advisor and consultant to a number of statewide digital library and portal projects throughout the United States.
She is the Associate Director for Academic Outreach and Practical Engagement Programs and Lecturer in government information, social sciences resources, and business information at the University of Michigan's School of Information.
Everyl Yankee
is a usability consultant who has been involved in user interface analysis, design and evaluation since 1982. She has worked in all phases of development for both software and web based commercial applications, including ten years' experience with accessible interfaces and extensive experience consulting on e-commerce applications. She was the Usability Product Manager at ProQuest and works with public and university libraries on usability issues.
She has a B.PH. in interdisciplinary social sciences from Thomas Jefferson College (GVSU) and an M.A. in Linguistics and Education from Western Michigan University.
Download @ RapidShare
Download @ MiHD.net