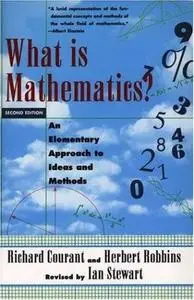 What Is Mathematics?: An Elementary Approach to Ideas and Methods (1941, 2nd Ed 1996)
by Richard Courant, Herbert Robbins, Ian Stewart | ISBN 0195105192 | Djvu | 7.6 Mb
"A 1996 revision of a timeless classic originally published in 1941. Highly recommended for any serious student, teacher or scholar of mathematics."
- Amazon.com
"A lucid representation of the fundamental concepts and methods of the whole field of mathematics…Easily understandable."
- Albert Einstein
"A work of extraordinary perfection."
-Mathematical Reviews
The late Richard Courant, headed the Department of Mathematics at New York University and was Director of the Institute of Mathematical Sciences–which has subsequently renamed the Courant Institute of Mathematical Sciences. His book Mathematical Physics is familiar to every physicist, and his book Differential and Integral Calculus is acknowledged to be one of the best presentations of the subject written in modern times. Herbert Robbins is Professor of Mathematics at Columbia University. Ian Stewart is Professor of Mathematics at the University of Warwick.
http://www.amazon.com/gp/product/0195105192/
I'm fairly sure this would have been posted here some time in the past, but it's worth mentioning again. Upload includes a detailed book review.
Download
Passwd: courant