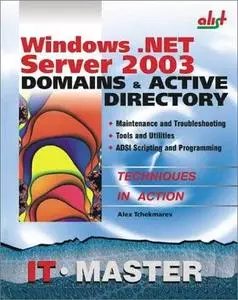 Windows .NET Server 2003 Domains & Active Directory
by Tchekmarev Aleksey
A-List Publishing | ISBN: 1931769001 | CHM | 560 Pages | 14.52 MB
Intended for system administrators with a general knowledge of Windows 2000 or Windows XP/.NET, this reference covers all main system tools and program methods used for routine Active Directory administration and troubleshooting. Information important for understanding the Active Directory service architecture-LDAP protocol, DNS interoperation, and Active Directory concepts-is discussed in detail along with methods of performing common administrative tasks such as creating directory objects, audit, and backing up. This guide addresses troubleshooting problems that occur after deploying Windows .NET domains and system tools used for solving such problems. Also covered are Active Directory Service Interfaces with annotated listings of ready-to-use scripts that illustrate programming principles needed to help nonprogrammers learn the main ADSI concepts to begin their own scripts.