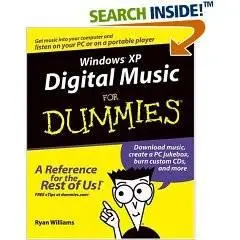 Windows XP Digital Music For Dummies
by Ryan Williams
ISBN: 0764575996 | 2005 | PDF | 315 pages | 7.3 MB
Now you can give new meaning to the description "High-performance computer!" And you can even choose the performers—Elvis or Elton, the Beatles or Beethoven, Eminem or Englebert, Pfish or Pavarotti. Your Windows XP is like a concert hall, and Windows XP Digital Music For Dummies is just the ticket to get you in and get you enjoying digital music. It will help you get in tune with the times with note-by-note information on:
* Setting up your computer to handle music
* Using Windows Media Player that's part of the XP package
* Making your computer the centerpiece of your music collection
* Shopping for and downloading music from Napster, iTunes, Rhapsody, and more internet sites
* Selecting the hardware, software, and audio tools you need
Written by Ryan Williams, an accomplished musician with an MS in Music Technology who develops digital multimedia tools, this guide helps you explore:
* Transferring your CDs or even vinyl records (if you have them, you know what they are) to the realm of your computer
* Choosing and using portable audio players
* Upgrading your PC and turning it into a jukebox with your all-time favorite hits
* Organizing and burning your music to disc for use in other types of devices, like traditional CD or DVD players
* Souping up your computer and making it a virtual studio
* Laying down basic tracks and mixing them
* Taking the finished product to disk, the Internet, and elsewhere
Hear what you've been missing. With Windows XP Digital Music For Dummies, you and your Windows XP can make beautiful (or raucous, harmonious, hip-hop, rousing, jazzy, inspiring—whatever your taste) digital music together!