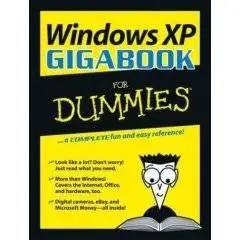 Windows XP Gigabook for Dummies
Peter Weverka, Mark L. Chambers, Greg PhD Harvey, Woody Leonhard, John R. Levine, Margaret Levine Young, Doug Lowe
ISBN: 0764569228 | 2004 | PDF | 915 pages | 31.4 MB
Weighing in at over 900 pages and priced under $40, this new For Dummies omnibus guide delivers wide-ranging coverage of Windows XP, PC hardware, Microsoft Office, and Internet fundamentals, drawing on content from some of the best-known and bestselling authors in the For Dummies series.
This indispensable mega-reference covers the entire constellation of computer issues that average home users face, complete with timesaving techniques to help make using Windows simpler.
A Reference for the Rest of Us!
* An all-new one-stop mega-reference for all of the most common Windows and PC topics
* Covers Windows XP (including basics, customizing, and multimedia tools), PC hardware (the PC and its components, printers and scanners, and digital cameras), the Internet (the Web, e-mail, instant messaging, creating Web pages, and commerce via eBay), and applications (Word, Excel, Outlook, PowerPoint, and Money)
* Features tips from the bestselling Windows XP Timesaving Techniques For Dummies (0-7645-3748-2), designed to help readers simplify their Windows XP experiences
http://rapidshare.com/files/3204997/WXGfD.rar
other windows xp books for dummies:
Windows Xp for Dummies
http://rapidshare.com/files/3188635/WXFD.rar
Cleaning Windows XP for Dummies
http://rapidshare.com/files/3205560/CWXfD.rar
Windows XP Hacks and Mods for Dummies
http://rapidshare.com/files/3206583/WXHaMfD.rar
Windows XP Timesaving Techniques For Dummies
http://rapidshare.com/files/3208332/WXTTfD.rar
Windows XP Digital Music For Dummies
http://rapidshare.com/files/3208906/WXDMfD.rar
no pass