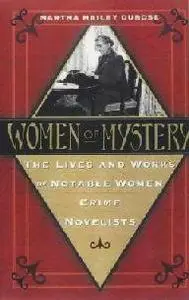 Martha DuBose, «Women of Mystery»
Saint Martin's Press | ISBN 0312209428 | 2001 | PDF | 9.5 MB | 464 pp

A book that looks closely at ten of the most popular female practitioners of fictional mayhem . . . Women of Mystery goes behind the scenes to answer the questions that intrigue millions of mystery readers – exploring . . . the private lives and public works of the women who make "murder" a household word. The list of authors begins with the first published woman mystery novelist, "spinster" and lawyer Anna Green. Also covered are Agatha Christie, Mary Roberts Rhinehart, Dorothy L Sayers, Ngaio Marsh, Margery Allingham, Josephine Tey, Patricia Highsmith, P D James and Ruth Rendell.