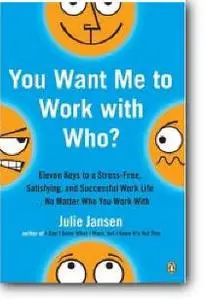 Julie Jansen, «You Want Me to Work with Who? : Eleven Keys to a Stress-Free, Satisfying, and Successful Work Life . . . No Matter Who You Work With»
Penguin | ISBN 0143036807 | 2006 Year | PDF | 2,49 Mb | 288 Pages
In I Don't Know What I Want . . . But I Know It's Not This, career consultant Julie Jansen won over readers with the same comforting, clear headed approach that she brings to her many Fortune 500 clients. Now she tackles a problem that affects every working person, regardless of occupation: difficult people. Whether the problem is an "abusive" boss, "toxic" coworker, or "difficult" assistant, Jansen shows how to master the eleven keys to getting along with even the most dysfunctional colleagues. Featuring self-assessment exercises designed to identify the root causes of problem behavior and smart, viable solutions and tips for managing different kinds of difficult people-from subordinates to superiors-this invaluable resource is a savvy, humane guide to reducing stress, establishing workplace harmony, and making sure that no one stands in the way of your career goals.
Password
:
www.AvaxHome.ru
Download from Rapidshare
Бонус | Bonus
My other uploaded eBooks (1900+) - links and descriptions
Другие книги, закаченные мной (более 1900) - ссылки и библиографические данные
New!
version 6 (May 03 2006) [1,1 Mb] | Format: txt
Download eBooks list from Mytempdir
Download eBooks list from Rapidshare
If you need a book from the list but the link doesn't work
anymore, send me a message. Also write me about dead links in my other posts, please.
Если Вам необходима книга из списка, а ссылка на нее не работает, то отправьте мне сообщение. Также пожалуйста отправляйте мне сообщения о нерабочих ссылках в моих постах.