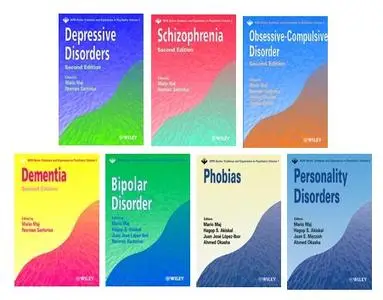 WPA Series - Evidence and Experience in Psychiatry Vols. 1,2,3,4,5,7,8
Mario Maj (Editor) and cols. | PDF | 13 Mb | rar no password needed
Volume 6 and 9 missing
The series of 9 volumes in Evidence and Experience in Psychiatry aims to compare research evidence and clinical experience about the diagnosis and management of the most common mental disorders. Each volume of the series covers a specific mental disorder, by means of a set of systematic reviews of the research evidence, each followed by many commentaries produced by psychiatrists from various countries and representing different schools of thought.
All the volumes of the series have received very positive reviews in international psychiatric journals. The revenues from the sales of the volumes have been the third most significant source of income for the WPA during the period 2002-2004.
This series acknowledges the substantial gap that still exists in psychiatry between research evidence and clinical practice: clinicians are sometimes incompletely aware of research findings, or regard them as biased, not convincing or not relevant to their practice. By using systematic reviews with accompanying commentaries this volume is able to assess the "evidence" and "experiences" to give a critical and objective account of the relevant issues, while focusing on key topics. This comprehensive book addresses schizophrenia through a systematic review of the available rearch evidence.
This book "…was a pleasure to review. One can dip in and out of it at random to find an important aspect of schizophrenia summarised in a few paragraphs. The reviews are all well written, balanced and up-to-date. It is designed for an international readership, and come commentaries, such as those on continental concepts of schizophrenia, or experience of stigma in the less industrialised world, are rarely found together in one volume." —British Journal of Psychiatry, 2001
Vol. 1 - Depressive Disorders, 2nd Edition
Mario Maj (Editor), Norman Sartorius (Editor)| ISBN: 0-470-84965-7 | PDF | 506 pages | February 2003
Vol. 2 - Schizophrenia, 2nd Edition
Mario Maj (Editor), Norman Sartorius (Editor) | ISBN: 0-470-85927-X | PDF | 514 pages | February 2003
Vol. 3 - Dementia, 2nd Edition
Mario Maj (Editor), Norman Sartorius (Editor) | ISBN: 0-470-85860-5 | PDF | 412 pages | February 2003
Vol. 4 - Obsessive-Compulsive Disorder, 2nd Edition
Mario Maj (Editor), Norman Sartorius (Editor), Ahmed Okasha (Editor), Joseph Zohar (Editor) | ISBN: 0-470-85861-3 | PDF | 322 pages | February 2003
Vol. 5 - Bipolar Disorder
Mario Maj (Editor), Hagop S. Akiskal (Editor), Juan José López-Ibor (Editor), Norman Sartorius (Editor) | ISBN: 0-470-85176-7 | PDF | 544 pages | June 2002
Vol. 7 - Phobias
Mario Maj (Editor), Hagop S. Akiskal (Editor), Juan José López-Ibor (Editor), Ahmed Okasha (Editor) | ISBN: 0-470-85837-0 | PDF | 380 pages | May 2004
Vol. 8 - Personality Disorders
Mario Maj (Editor) | ISBN: 0-470-09037-5 | PDF | 536 pages | August 2005
No Password required
_______________________________________
If anyone has Vol. 6 (Eating disorders) or Vol. 9 (Somatoform disorders), PLEASE post them in this site
Kameeldoring